Kariéra
Cześć! Nice to meet you.
Poland is home to 3 of Wunderman Thompson Technology's engineering centres - communities of talented engineers, tech experts, and creators who combine their skills to deliver customer experience platforms and solutions to some of the world's biggest brands. There are around 400 of us in Poland (Bydgoszcz, Katowice and Poznań), – all with one thing in common - we are passionate about technology.
People & Culture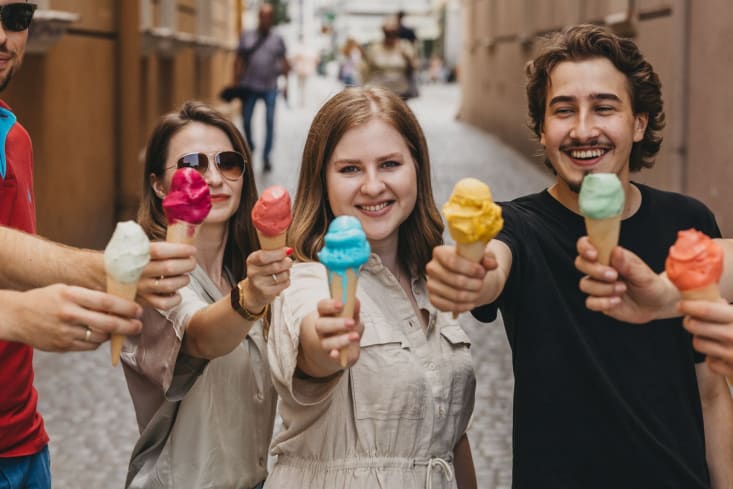 We're at our best when we work together because we all win when the team delivers. Our ethos is to 'make the complex simple' and, in doing so, we nurture a spirit of innovation and experimentation. We believe that learning by trial – and maybe some error - encourages new ways of thinking and working. That's why we like to experiment and explore different approaches. Our people are the part of our culture that we are the most proud of.
Roles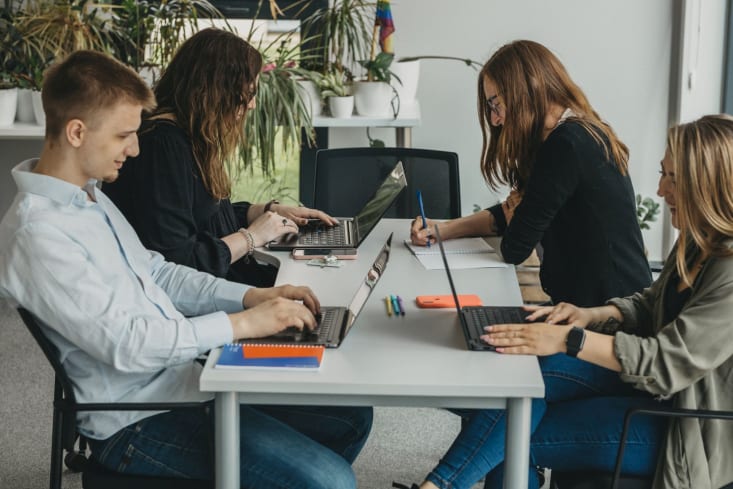 Each and every individual adds true value to our company through their unique knowledge and experience. Our teams consist of back-end and front-end engineers, quality assurance specialists, IT professionals, project managers, business analysts and many more. Thanks to a versatile team setup, we can assign experts at every stage of a project and use agile delivery methods to support efficient and effective problem solving.
We drive personal growth based on future work and changes to our landscape. This helps us build adaptability and embrace diversity.
---
Łukasz Mądrzak Wecke
CTO, Poland
You applied to an open role. What's next?
In the initial stage of the process our recruiters analyse your CV, and if your application meets our requirements, here's what will happen next:

30-45 min
Interview with a recruiter
Our recruiter will contact you in order to discuss the details of the role you applied for and tell you more about our company. They'll ask about your experience and motivation, as well as answer all of your questions. Part of this interview will be conducted in English.
90-120 min
Tech interview
Here we'll focus on your technology knowledge and experience. Depending on the role, there might be a task for you to complete, e.g. live coding or a case study. Part of this interview will be conducted in English.
30-90 min
Company interview
You'll have a chance to meet with one of our team leaders or directors. This meeting will sum up previous stages of the process, discuss your development and confirm expectations on both sides.

Decision
If everything goes well, you will receive a job offer from us. If it turns out that our expectations regarding this particular role are a bit different - don't worry. We've gotten to know each other and perhaps you'll be interested in another position in the future. Also, please remember that you will always get feedback afterwards, so you can better prepare next time.
Technology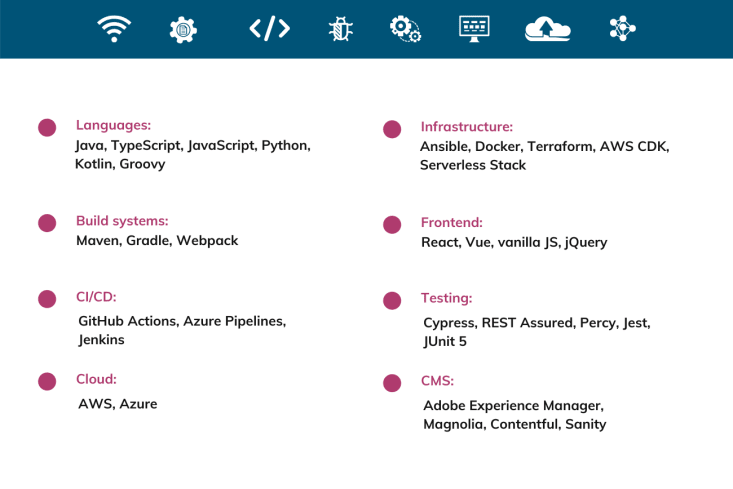 We design, build, manage and run complex marketing platforms for global clients, such as Ford, GSK and HSBC. We work with a number of technology partners, including Adobe and Sitecore, among others. We provide a broad range of technology services - audits, advisory, setup, configuration, custom development, end-to-end testing, deployment, as well as maintenance. Technology is changing the world and we are part of that change. With our unique Technology Radar we pick the best tools available and constantly evolve our technology landscape. We value engineering freedom and constantly nurture innovation. Through different R&D activities, our developers have direct impact on the implementation of solutions that solve some of the biggest marketing challenges.

Naše práce
A seamless and personalised experience for Ford customers across Europe
Přečíst Case Study
Naše práce
Delivering the world's largest grocery e-commerce replatform
Přečíst Case Study
Naše práce
A global platform to embed a digital culture across the bank
Přečíst Case Study
Knowledge Sharing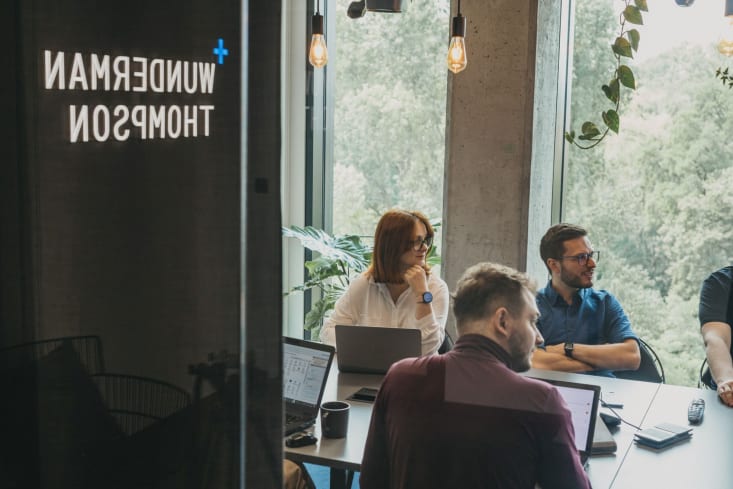 We have a thirst for knowledge and are constantly learning new things through various training initiatives and workshops. We run internal knowledge-sharing meetings within different communities and host company-wide presentations. Outside of our own community, we attend and present at various IT meetups and conferences. Our TechHub is where we share developer articles, open-source news and let the community know about up and coming events. Our mission is to inspire growth, not only for ambitious brands but also in ambitious students, which is why we work closely with schools and universities.
Hybrid Work
We aim to build a workplace where people can feel comfortable and release their full potential. We've learned that for some people 'home first' is the best fit, while others want to be office-based more frequently. We listen and we adapt. That's why working with us means that you can choose whatever suits you best - WFH, WFO or a combination of home and office work.
Work-life harmony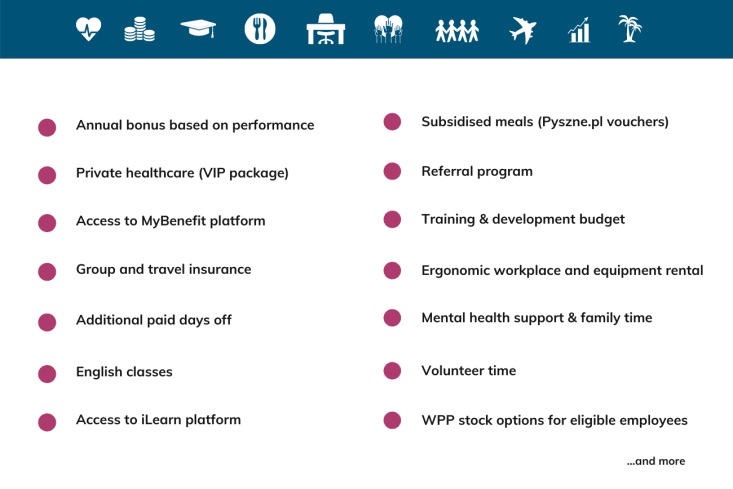 We believe that staying healthy and happy is as important as driving innovation and inspiring growth. In fact, work-life harmony is always highly rated in our annual employee satisfaction surveys. We help our people to take good care of themselves and enjoy every day of their working lives. In addition to online/offline events and team building activities, we offer a host of other benefits.

Top 3 factors that drive our job satisfaction
Please provide your contact information to continue. Detailed information on the processing of your personal data can be found in our Privacy Policy. (in particular the "How Do We Use It?" Section).